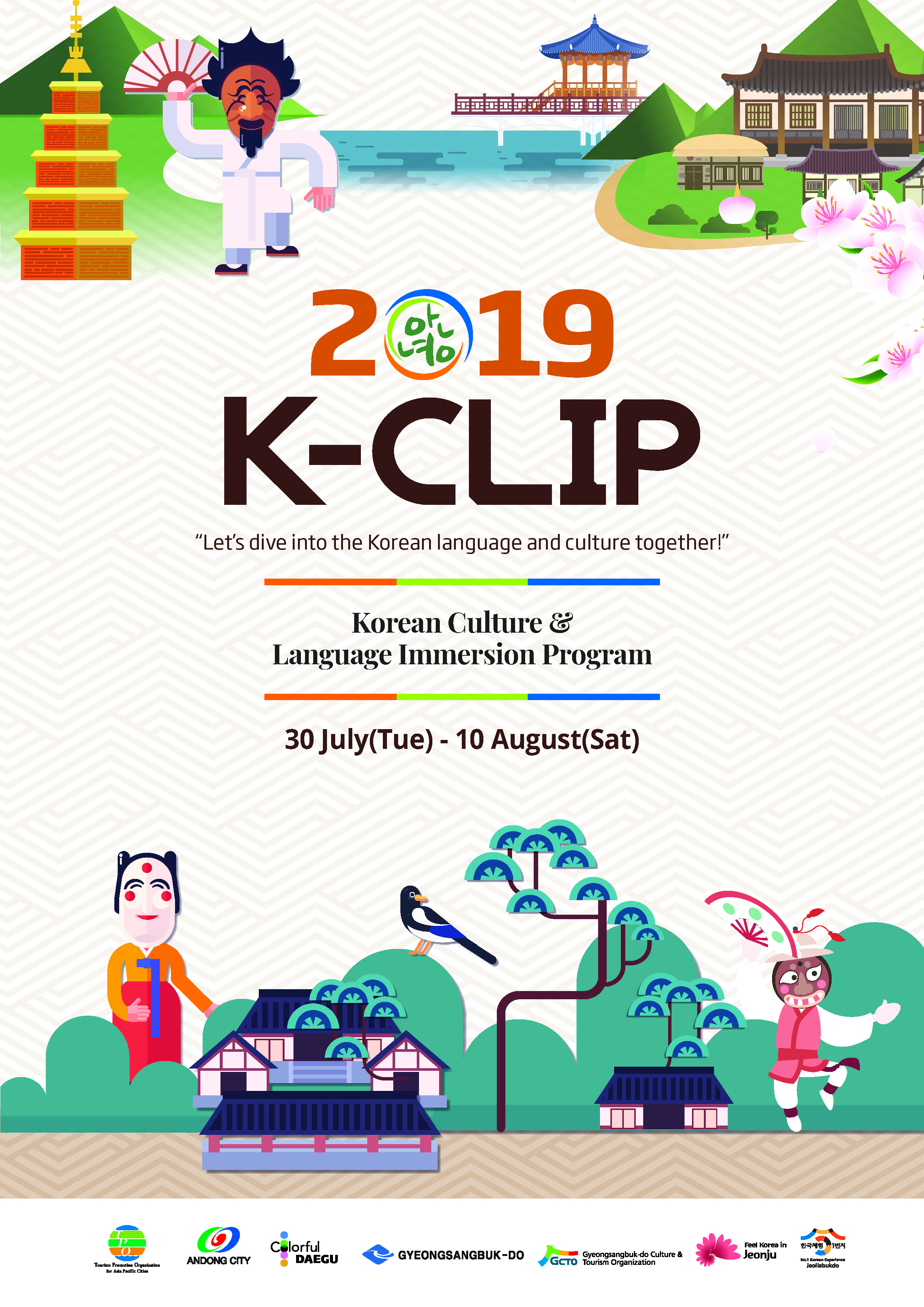 Warm greetings from the TPO Secretariat!
It is our great pleasure to announce that K-CLIP 2019 will be held in 5 Korean member cities: Andong, Daegu, Namwon, Imsil, Namwon, Jeonju from 30th July to 10th August 2019.
▶ Program Overview
- Title: Korean Culture and Language Immersion Program (K-CLIP 2019)
- Period: 30th July (Tue) ~ 10th August (Sat) 2019.
- Venue: Andong, Daegu, Namwon, Imsil, Jeonju
- Organizer: TPO Secretariat
- Host City: Andong
- Number of participants: 40 persons
- How to Apply: Website (https://kclip2019.azurewebsites.net) (※ Submission of the filled application form via e-mail (kclip@aptpo.org) is also available)
- Application Period: From 29 May (Wed) to 28 June (Fri), 2019 (※ Recruitment can end up earlier than the designated date once we reach the number of qualified participants)
- Participation fee: Free of charge (USD 100 for deposit to secure your participation / the amount will be non-refundable and it will be used for the operation of K-CLIP Program.

Please kindly note that with the strong support from the TPO member cities, there will be no participation fee to attend this year's K-CLIP. Except for your round-trip airfare, all the travel expenses including pick-up service from and to Andong Train Station to Andong Park Hotel, accommodation, meals and etc will be covered by TPO and the TPO member cities.
Please refer to the attachment files below for the brochure and the general information note of K-CLIP 2019.
If you are interested in K-CLIP 2019, please do not hesitate to contact us at kclip@aptpo.org