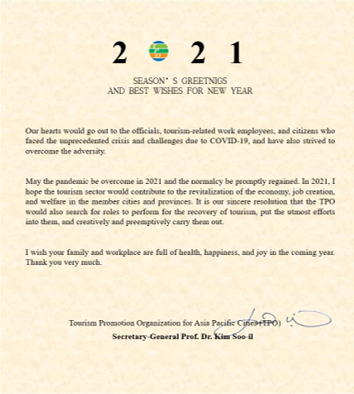 Our hearts would go out to the officials, tourism-related work employees, and citizens who faced the unprecedented crisis and challenges due to COVID-19, and have also strived to overcome the adversity.
May the pandemic be overcome in 2021 and the normalcy be promptly regained. In 2021, I hope the tourism sector would contribute to the revitalization of the economy, job creation, and welfare in the member cities and provinces. It is our sincere resolution that the TPO would also search for roles to perform for the recovery of tourism, put the utmost efforts into them, and creatively and preemptively carry them out.
I wish your family and workplace are full of health, happiness, and joy in the coming year.
Tourism Promotion Organization for Asia Pacific Cities (TPO)
Secretary-General, Prof. Dr. Kim Soo-il