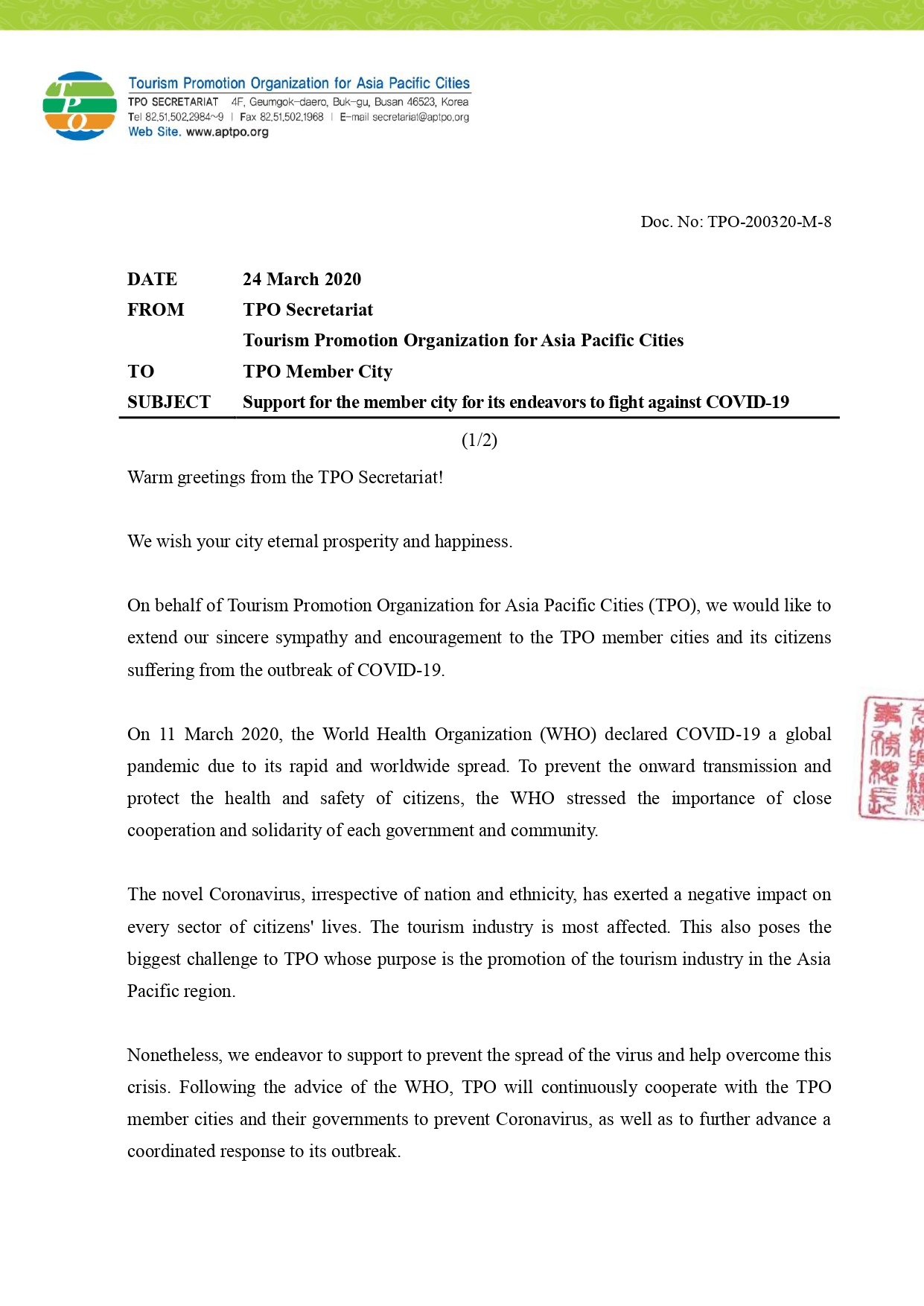 Warm greetings from the TPO Secretariat! We wish your city eternal prosperity and happiness.
On behalf of Tourism Promotion Organization for Asia Pacific Cities (TPO), we would like to extend our sincere sympathy and encouragement to the TPO member cities and its citizens suffering from the outbreak of COVID-19.
On 11 March 2020, the World Health Organization (WHO) declared COVID-19 a global pandemic due to its rapid and worldwide spread. To prevent the onward transmission and protect the health and safety of citizens, the WHO stressed the importance of close cooperation and solidarity of each government and community.
The novel Coronavirus, irrespective of nation and ethnicity, has exerted a negative impact on every sector of citizens' lives. The tourism industry is most affected. This also poses the biggest challenge to TPO whose purpose is the promotion of the tourism industry in the Asia Pacific region.
Nonetheless, we endeavor to support to prevent the spread of the virus and help overcome this crisis. Following the advice of the WHO, TPO will continuously cooperate with the TPO member cities and their governments to prevent Coronavirus, as well as to further advance a coordinated response to its outbreak.
Hence, the TPO Secretariat tentatively decided to postpone all the TPO activity plans for 2020 until COVID-19 comes to an end, or rearrange the timelines of the plans. However, the Secretariat runs normally to fulfill its mission. We will do our utmost to support the member cities and citizens so that they can cope with the current situation and normalize every sector in their lives at the earliest possible date.
We appreciate your service, courage, and patience.
Sincerely Yours,
Tourism Promotion Organization for Asia Pacific Cities
President City
Mayor of Busan Metropolitan City, Mr. Oh Keo-don
Co-president Cities
Mayor of Jeonju Metropolitan City, Mr. Kim Seung-su
Mayor of Pariaman, Mr. Genius Umar
Mayor of Taiping, Mr. YBrs Tuan Khairul Amir bin Mohamad Zubir, AMP
Mayor of Ulsan Metropolitan City, Mr. Song Cheol-ho
Secretary-General, Mr. Kim Soo-il