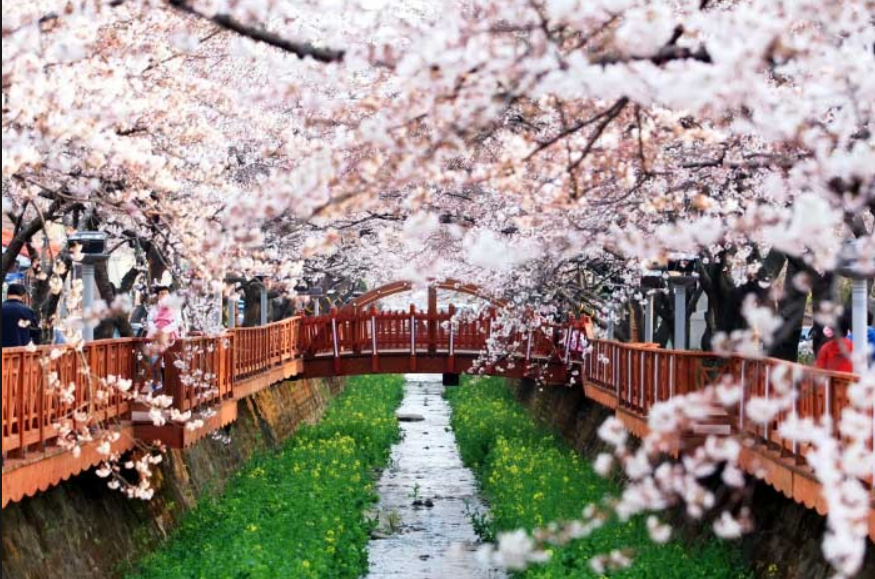 2019 Jinhae Gunhang Festival Held in Changwon City
​Changwon City in Korea will host the world's largest cherry blossom festival, <Jinhae Gunhang Festival> from April 1 to April 10. Major events such as the festival eve event, Paldo Pungmul Market, and arts and cultural performances will take place at the Jungwon Rotary, and there will be a floral tribute, a grand memorial ceremony, and a parade of victory held at the at the Monument for Admiral Yi Sun-sin located at the Bukwon Rotary.
In addition, the Jinhae International Military Band & Honor Guard Festival, which brings to life the characteristics of Gunhang City, will also be held. This is extravagant military arts performance featuring honor guards performing powerful marching performances to military music while wearing striking uniform. Such a performance can only be seen at the Jinhae International Military Band & Honor Guard Festival.
The Naval Academy and Jinhae Naval Base, which are normally inaccessible, are must-see places during the military festival period as visitors can enjoy various experiences such as visiting the naval museum, seeing geobukseon ("turtle ship"), viewing photo galleries, trying on naval uniform, and boarding a cruise yacht. You can create great memories of the magnificent flowering cherry scenery against the backdrop of a Korean Navy Base.
In April, the entire city of Jinhae becomes a world of cherry blossoms. The pure white cherry blossom tunnel is fantastic, and there is also the "flower rain" of falling petals following full bloom, which is romantic. The large cherry blossoms that bloom along the 1.5km Yeojwa flower stream and the 800m "flower railway" of Kyeonghwa Station, are the culmination of cherry blossoms in Jinhae. The Anmin Gogae Simni Cherry Blossom Walkway features grand cherry blossom scenery that can be enjoyed while driving along in a car. If you go up to Jehwangsan Park and look down at the city from the top of Jinhae Tower, you can enjoy picturesque views of the whole of the elegant and peaceful city featuring modern buildings from a hundred years ago together with the magnificent Jinhae cherry blossoms.