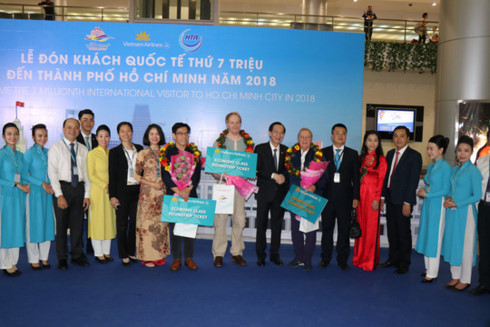 Ho Chi Minh City welcomes its 7 millionth foreign tourist
Ho Chi Minh City's Department of Culture, Sports and Tourism held a ceremony to welcome their 7 millionth foreign visitor of the year, a French citizen, to the city on 10 December 2018.
The lucky visitor was Tissot Jeanclaure from France. Tissot Jeanclaure, along with two other visitors who had arrived directly before and immediately after him, was presented with special gifts from the department and Vietnam Airlines. All three passengers were on the same flight from France to Ho Chi Minh City.
The welcome ceremony was a part of various activities to commemorate 320 year anniversary since the establishment of the city.
To mark the occasion, the city's Department of Culture, Sports and Tourism launched 8 special tours, which will give visitors an insight into the development of Ho Chi Minh city since from its inception to the present day.
The number of international arrivals to Ho Chi Minh City reached 6.79 million in November, up 19.6% compared to the same period last year, and the city aims to attract 8.5 million foreigners next year.
The Department will continue to launch tourism promotion campaigns, improve the quality of human resources and special tours, and promote unique tourism products. The ultimate aim is to attract more foreign tourists to the city, extend the length of their stay, and increase their expenditure.