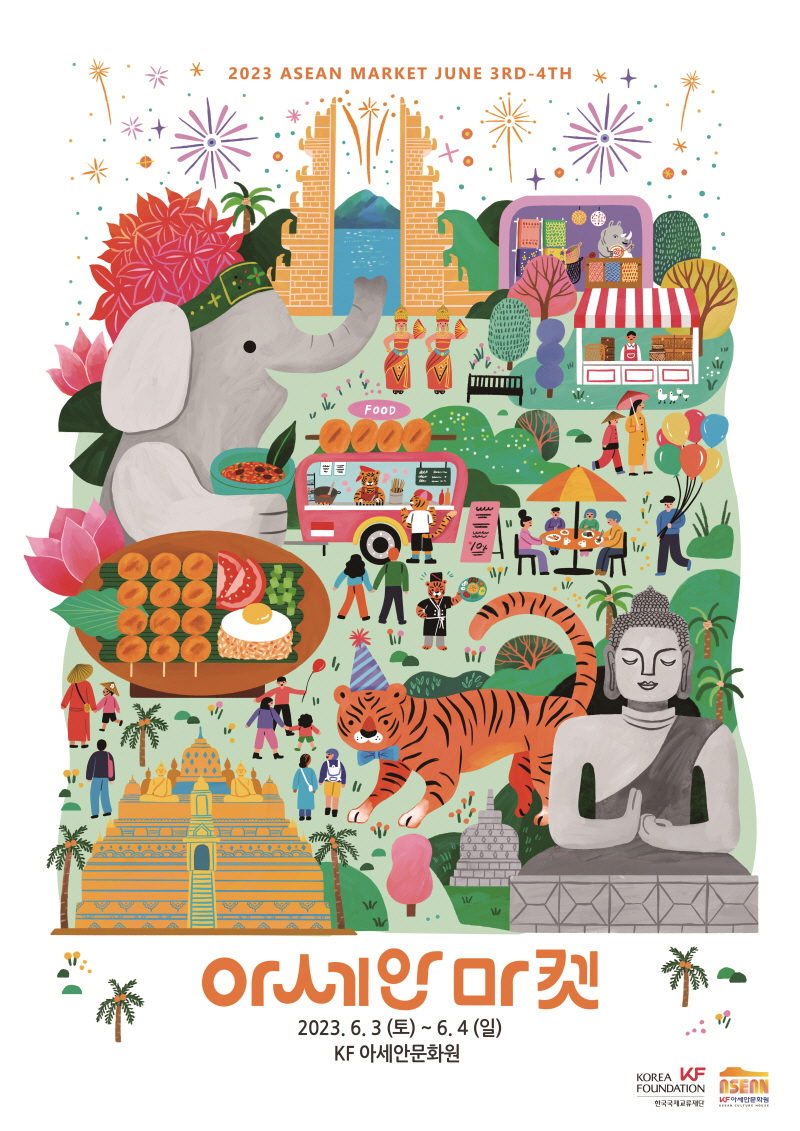 From June 3–4, the KF ASEAN Culture House will hold the 2023 ASEAN Market, an event that will make visitors feel as though they've been transported to the outdoor markets of the ten ASEAN countries. The previous year, more than 16,000 visitors enjoyed the event.
The biggest feature of this event is the Special Indonesian Pavilion. In celebration of the 50th anniversary of Korean-Indonesian relations, the event will showcase a coffee bar run by a famous Indonesian barista, a traditional Indonesian dance class, an Indonesian film screening, and an Indonesian dessert cooking class. Participants of the dance class will have the opportunity to perform with the troupe on stage at the end of the experience.
There will also be a Food Zone where visitors can enjoy the fragrant and colorful cuisines of ASEAN. In the Street Food Zone, dishes prepared by local ASEAN chefs—likenasi goreng, satay, pad thai, som tam, and rice noodles—will be on offer. In addition, the Fusion Food Truck will introduce new ASEAN foods which are perfectly suited to the Korean palate, but that are hard to find in Korea. The Food Zone will also feature sugarcane juice, fresh fruit juice, coffee, fruit, and even convenience stores, which will seem as though actual ASEAN local markets have been teleported to Korea.
There will also be an Experience Zone that can be enjoyed by people of all ages. Due to massive popularity and limited space, some guests were disappointed that they were unable to participate in the Experience Zone last time around. This year, we have prepared enough space to accommodate as many participants as possible. First, visitors will be able to create their own masks from the examples shown at the Alternative Identities: Masks of ASEAN & Korea exhibition at the special exhibition hall on the first floor of the KF ASEAN Culture House. There will be another area where participants can make ASEAN masks using balloons and play with them afterward. In addition, there will bea rattanbasket-making experience, an eco-friendly ASEAN herb pot DIY using coffee grinds, and an eco-friendly tropical fruit juicing DIY that will draw energy by operating a bicycle generator.
Finally, there will be a Market Zone optimized for shopping in ASEAN: clothes, bags, props, and crafts. Rare goods introduced by the ASEAN embassies in Korea will be available for purchase, and perhaps most exciting, ASEAN's craft masters will demonstrate the process of making their own crafts this year.