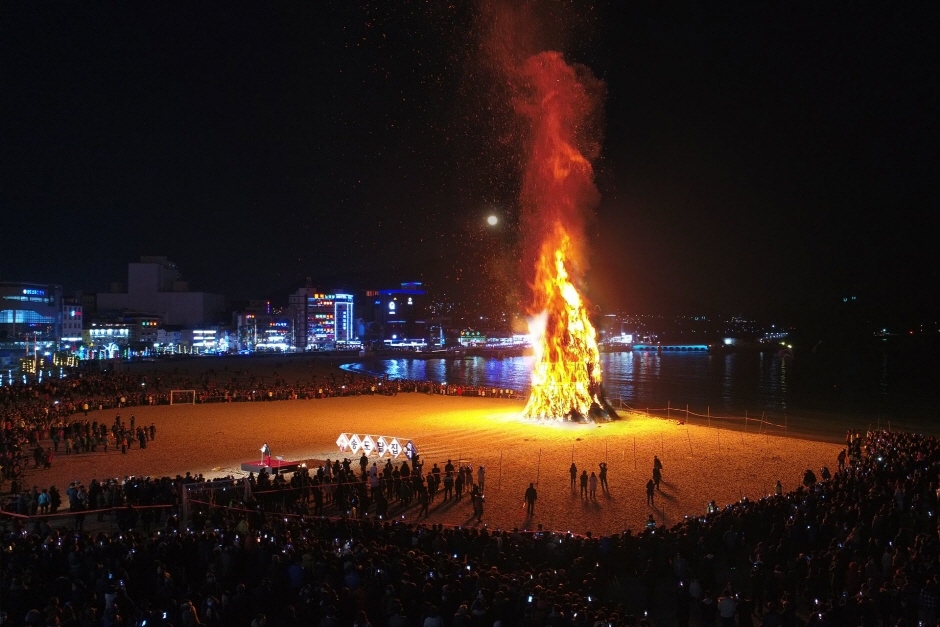 The first lunar Full Moon at Songdo in Busan is extraordinary! The Songdo Full Moon Festival is held at Songdo Beach by the Songdo Cultural Festival Committee on Daeboreum (the 15th day of the first month on the lunar calendar) every year to carry on the local tradition of praying for harmony, wellness, and health of the local residents.
The Songdo Full Moon Festival, which has been held since 2000 to dispel bad luck and attract good fortune in the new year, kicks off with the Mountain God Ritual held at Janggunsan Mountain in Annam-dong, after which Gil-nori (parade), intangible cultural heritage performances to drive away back luck and bring good fortune, and Dalmajije (Moon Greeting) Festival are held as pre-ceremonial events. Following the opening ceremony, a jaw-dropping fireworks show is set to provide a spectacular view. The burning of the bonfire, which is arguably the highlight of the festival, will begin at 6:30 p.m. The flames engulfing the bonfire​ built by the residents of Songdo will reach the night sky, taking everyone's wishes with it.
Side events include traditional games such as Yut-nori, Jegi-chagi, and Tuho-nori will be held across the district, and visitors can also join in on the rice cake pounding activity. There will be a variety of events and activities available such as writing a wish card and making tarot cards, wish kites, green lanterns and so on, which will allow visitors to create fun and unforgettable memories at the festival.
[Source: Korea Tourism Organization]