(Part 2)
With its unique values, Cat Ba archipelago was recognised by UNESCO as a World Biosphere Reserve in 2004, ranked by the Government as a special national monument in 2013 and is on course to be recognised a World Natural Heritage Site Ha Long - Cat Ba.
Exploring exotic caves
On Cat Ba island, there are currently about 20 large and small caves stretching from Phu Long commune to Cat Ba town and on islands in Lan Ha Bay area. Of quintessentially historical value is Hung Son cave – locally known as Quan Y cave, which is located close to cross-island road about 13km from Cat Ba town. This used to be a field hospital during the anti-American war and is also a beautiful cave exploration site with a special structure of stalactites and coastal limestone mountains formed by sediments. In addition to Quan Y cave, visitors can visit Trung Trang cave, Hoa Cuong cave, Thien Long cave etc., which are also interesting and attractive destinations.
Most visitors coming to Cat Ba agreed that the unique feature of the cave is the cave populations stretching across the island, hiding their own beauty with unique aesthetic and geological values. Activities, namely climbing, exploring national park, trekking through forests, exploring caves in Cat Ba, are very popular amongst tourists, especially international ones.
Experiencing ecological, communal tourism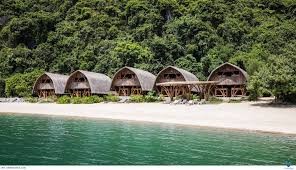 Starting at Cat Ba town center, having reached Cai Beo on a 30 minute boat trip, passed Lan Ha Bay or the National Park, followed treacherous, sloping cliff-hanging trails, caves, trenches, swamps, lakes, visitors can see Viet Hai village emerging out of the sea, separate from the outside world, surrounded by old forests and imposing limestone mountains. There are only more than 70 households living in the village with distinctly cultural traits that are typical of coastal people. Ancient houses, many of which are bamboo-made, mud-walled, lie quietly underneath longan tree ranges, orchards teeming with custard apples and jackfruits. Amidst a peaceful, quiet air, having cycled on village road in tandem with the breath of moutains, forests, ocean and locals' lives, visitors are able to feel all the rustic and pure values.
Beside Viet Hai village, visitors cannot afford missing out on other unique eco-tourism sites located in the southwest of Cat Ba Island, Xuan Dam Commune, namely archaeological vestige of Cat Don ground, Goi Spring eco-tourism area or Lien Minh village (Tran Chau commune), which has the highest terrain on Cat Ba Island and is surrounded by rocky shoulder-to-shoulder mountains like a great wall separating the village from the outside.
Trying local delicacies
Cat Ba cuisine is characterized by its waters and climate, so it has its own flavor, flavourful and very different. Visitors to Cat Ba are into Vietnamese geoduck clam, green flower crab, mantis shrimp roasted with salt, grilled horsehoe crab, jellyfish salads or Cat Ba cuttlefish. There are distinct Cat Ba specialties such as safflower, traditional honey, wild mountain goats, Lien Minh chicken – a very precious, pure breed of chicken famous for their distinct flavour or Gia Luan oranges – of a rare and precious gene, typical products of the island that are only planted in gardens, fields etc. with fresh environment and natural water source.

Attending traditional folk festivals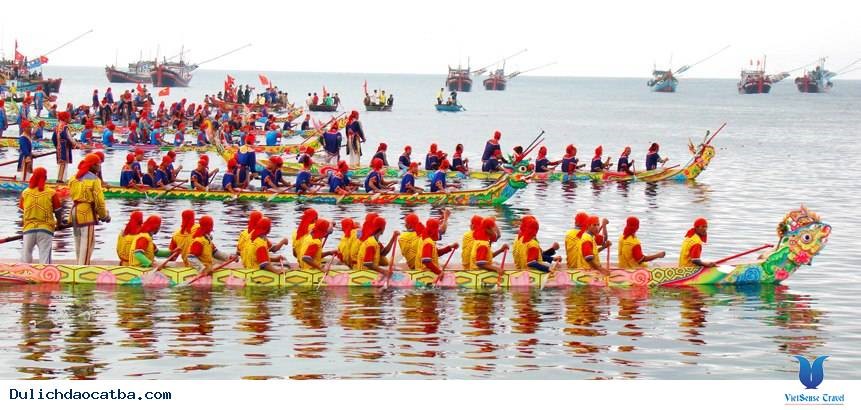 The annual traditional folk festivals such as Cat Ba Fish Village Festival, Fish Praying Festival, Tran Chau, Hoang Chau, Nghia Lo, Xuan Dam, Hien Hao Temple and communal house festivasls, etc. give visitors the ultimately meaningful cultural experiences.
International visitors usually visit Cat Ba from November to March, while domestic tourists prefer travelling to Cat Ba from April to October. Upon arriving in Cat Ba, visitors marvel at Cat Ba's beauty in all four seasons of the year. In springtime Cat Ba is bustling with the Fish Village Festival, which captivates visitors with the fragrance of plants and flowers in Cat Ba National Park. In summertime Cat Ba is livened up by the sound of the waves and the sound of the sea breeze blowing on sunlit beaches. In fall, Cat Ba is like a genteel princess immersed in the natural beauty of Lan Ha Bay. In wintertime Cat Ba lingers on in the mist of the dawn and stays true to its original, pristine beauty upon which Mother Nature has bestowed. Cat Ba really deserves the name "The sapphire pearl on the sapphire sea". Come to Cat Ba to experience and feel. (The end)