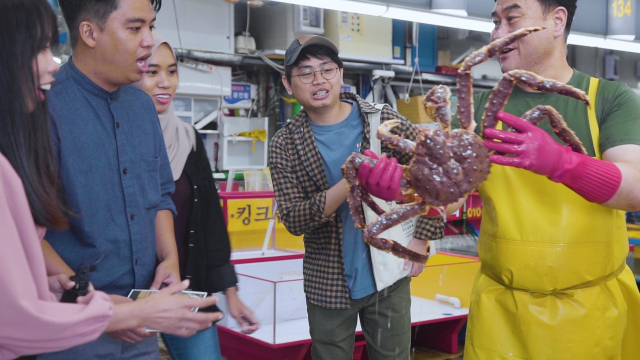 Busan Metropolitan City is undergoing a transformation into a Muslim-friendly city to attract 2 billion Muslims worldwide. Efforts include establishing enough Muslim prayer rooms and Muslim-friendly restaurants and operating Muslim supporters among college students. This policy is part of the efforts to prepare for the post-COVID-19 era.
Busan City and the Busan Tourism Organization made an announcement on May 31st that they will recruit Muslim-friendly tourism supporters until June 25th. Students who are enrolled in a local college or on an academic leave can apply, regardless of their nationality and age. The supporters will visit the Muslim-friendly tourist sites in Busan from July to November with the purpose of promoting the destinations on social media.
It is the first time for Busan City to create a PR team targeting Muslim travelers. Recently, Busan has enjoyed the increasing visitors from Muslim-majority countries such as Malaysia and Indonesia, particularly young female fans of hallyu (Korean wave) content.
According to the statistics, 83,547 Malaysian tourists visited Busan last year, and this is a 20.9% year-over-year increase. The visitors from Indonesia were recorded at 62,283, which was a 13.6% YOY increase. Based on this trend, Busan City has decided to launch tourism marketing efforts targeting Muslim travelers in order to diversify the tourist arrivals, of which the majority is Japanese and Chinese.
However, Busan city has a lot of things to solve in order to attract more Muslim travelers. For instance, there are only twenty-one Muslim prayer rooms and twenty-five Muslim-friendly restaurants serving halal food in Busan. According to the 2018 Survey on Muslim Tourists visiting Korea carried out by the Korea Tourism Organization (KTO), Busan recorded the lowest satisfaction level when it came to prayer rooms.
To meet the needs and to attract more Muslim visitors, the City has decided to establish much more prayer rooms and provide portable prayer mats, qibla (direction used by Muslims in the ritual prayer, etc.) stickers, directions and signboards of prayer rooms, etc. Also more Muslim-friendly restaurants will be established. To support the polish, consulting services will be offered in regard to halal food. Presentations and educational sessions related to the Muslim-oriented tourism marketing will be carried out for those in the local tourism and restaurant industry and public officials. The tourism resources popular with Muslim tourists will be incorporated into tourism products as well. The authority of Busan City stated, "at the beginning of this year, we set a target to attract 150,000 Muslim tourists, but the result seems to be not positive due to the COVID-19 situation. If we make the necessary preparations, we will be able to accomplish the goal soon, even not this year." [Source: Busan Ilbo]